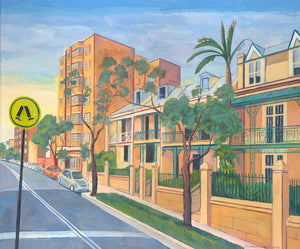 Normally $750 …. Now $600 
Liverpool Street - Edition of 30 only 
- Limited edition print. (Edition of 30 only)  
- Archival inks on 100% rag paper.
- Paper size 61 cm x 70 cm
- Image area 50 cm x 61 cm
- Numbered, titled and signed by artist.
- Delivery within Aus within four days of order being      placed 
- I ship worldwide 
Christopher Lewis is an acclaimed magical realist artist who lives and works in Sydney Australia. His work is represented in numerous public and private collections in Australia and throughout the world. 
- The Parliament House Collection, Canberra.
- University of Sydney Collection Chau Chak Wing  Museum Sydney.
- Allans Collection, Sydney.
- ArtBank, Sydney.
- Bloomingdales Collection, New York.
.
.
.